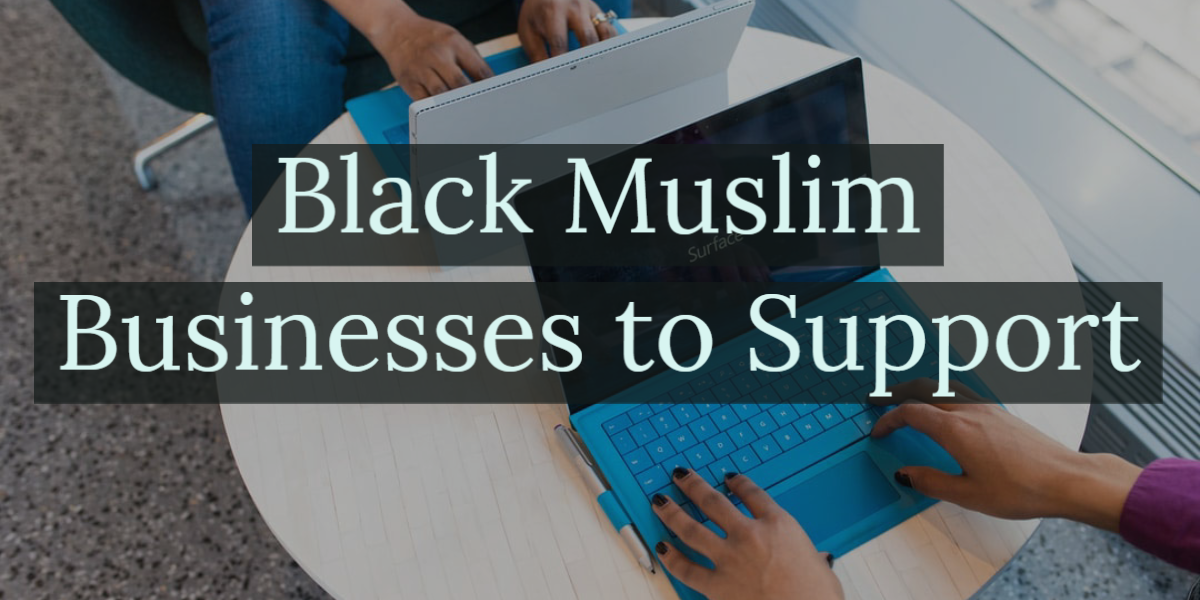 We tried to find a list of Black Muslim owned businesses to support - but we couldn't find any. So we reached out to the community to create a list that can be shared to support these businesses. Read more on how to support small businesses here. 
Fashion:
Louella Shop: A modest clothing line run by Ibtihaj Muhammad. Louella features modern modest dresses, tops, and more. 
Nzinga Knight: An award-winning NYC designer whose line of high end, modest clothing offers a sense of mystery, elegance and innovation.

Cover Me Cutee: Modest fashion for women. Offers ready to wear and customized modest clothing. Also offers sewing classes. 
LiaWear Action: Modest activewear such as tops, sports hijabs, and swimwear.
Covered Bliss: Offers modest and ready made dresses along with bridal wear and custom dresses. 

Sew Elevated: Luxury modest fashion brand curated by Dr. Nicole Muhammad. Sew Elevated offers exlusively designed dresses and turbans. 

Hijabsoforeign: Indianapolis based; hand-crafted and exclusive hijabs designed by Raheema Chachouai. 

Neicy: Canadian based modest clothing and hijab brand offering everything from turbans, to hijabs, to full outfits. 

Al Shams Apparel: New York based abaya shop. Also offers jilbabs, niqabs, and a plus size collection.

Haya Fashions: Custom made designs with some ready-made products for sale. Designer and CEO, Rasheedah Muhammad also teaches sewing, design, leadership, and more. 

Jamillah Bridal: DMV based; custom made modest wedding dresses and evening gowns. Also offers 'make it modest' alterations. 

Modest Girlz: Hijabs and modest apparel based in Braintree, Massachussets - right outside Boston. 

Home & Goods:
Saudah Saleem: New York based interior designer and stylist. 

Smellin' Good Fragrances: Indianapolis based and online shop. Offers oils, perfumes, sprays, incense, and more. 
Health & Beauty:
Fit Muslimah: Mubarakah Ibrahim is a world renowned nutrition and fitness expert, business coach, and speaker.

Alonya Virtual Vintage: New Jersey based vintage and gently loved consignment store with modest apparel options. 
Instagram | Facebook 

Bintalnile: NYC based freelance makeup artist and beauty influencer. 

Aneeqi Naturals: New Jersey based Esthetician. Offers skincare products made with natural ingredients and crafted for different skin types. 
Hajia Beauty: New York based Esthetician offering facials, holistic skin therapy, African beauty rituals, and more. 
Art & Photography:
Amira Rahim: Amira works with artists and teaches them how they can create their art into a full-time business. 

Restaurants & Food:
Badou Senegalese Cuisine: Chicago based Halal Senegalese food. Location: 2049 Howard Street
Yassa African Restaurant: Chicago based Halal African cuisine. Location: 3511 S King Drive
Qaato Halal Restaurant: Chicago based Halal Nigerian food. Location: 7118 North Clark Street
Mogha Dishu Restaurant: Chicago based Halal Somali food. Location: 931 North Orleans Street
Business/ Finance / Management:
 ---------------------------------------------------------------
Know any more that are not on the list? We'd love to support! Comment with the business name, website, and social media pages. 
To contact us, message us on our social media pages @bellahijabs or email us: info@bellahijabs.com.